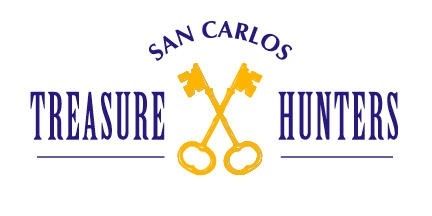 The 2nd Annual San Carlos Treasure Hunters….For Parents
I am very proud to announce that San Carlos Treasure Hunters has joined forces once again with the San Carlos Education Foundation to raise some much needed funds for our schools.  I founded San Carlos Treasure Hunters in 2006, as an event for that would teach kids the history of San Carlos in a fast paced, fun environment.  Dr. Young from Young Orthodontics in San Carlos joined me the following year and we have put on the event together each year since.  SCTH is an annual, free event for San Carlos kids ages 9-14, who study the history of San Carlos and the annual theme materials to track down a fantastic prize located in The City of Good Living.  SCTH concluded its 7th annual event in October. Last year, for the first time, we created a parents' version of San Carlos Treasure Hunters.  The parents' version is a similar version to the kids' hunt….only with a few historic stops that would normally not be found on the kids' hunt.  Believe it or not….The Orchid Room in downtown San Carlos does have historical significance and it was secret clue stop #3 for the parents last year.
The Basics
San Carlos Treasure Hunters…..For Parents, takes place at 3:30 pm on the Saturday of Hometown Days (May 18th).  In fact, we will leave right from the center stage at Hometown Days.  It is a fast paced hunt for you and three adult teammates….one of whom will be the designated driver.  Your team will have all study materials personally delivered to the team captain's home.
You can sign up at Spring Fling.  Look for the sign up during the silent auction.  Not going to Spring Fling?  Not a problem.  Feel free to contact me directly and I will make sure you have a team. The cost is $500 per team.  All proceeds benefit the San Carlos Education Foundation.  Split a team with three other friends, or perhaps two couples.  Last year's winning team was a group of friends who definitely came to the event with their game faces on.  After finding the treasure chest keys they were awarded a fantastic dinner at the Village Pub in Woodside.
Looking for a Competitive Advantage?
We've got you covered.  During the Live Auction at Spring Fling you will be able to bid on one of two VIP teams.  VIP teams come with your very own, personal, designated driver.  If you choose to bid on VIP Team #1, I will be your personal driver.  Your team of four can relax and concentrate on the hunt.  There is not a back road or short-cut through San Carlos that I do not know….so we will use it to our advantage.  The cost of your team is included in the Live Auction bid.  You do not need to pay an additional $500.  VIP Team #2 will be driven around by the world famous Brad Lewis.  I first met Brad when we served on the Park and Recreation Commission together.  Brad went on to be a city councilman, the Mayor of San Carlos, and won an Oscar for producing Ratatouille.  He will make an excellent tour guide around San Carlos. I cannot thank him enough for volunteering his time for this event.
* For more information on Spring Fling and the auction items, please click here to be connected to the Spring Fling page, or feel free to contact me directly.