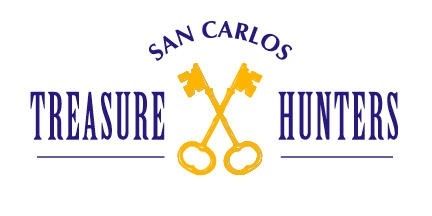 Since its creation in 2006, parents of many of the kids who have participated in San Carlos Treasure Hunters over the past six years have asked for a parents' version.  In association with my partner in crime, Dr. Young of Young Orthodontics in San Carlos, we are pleased to offer the very first San Carlos Treasure Hunters…..for Parents. However, time is running out to register for one of the 25 team spots.
The Legendary J.P. Harlow and the Treasure of 1929
Do you have what it takes to solve the mystery of J.P. Harlow and his hidden treasure?  Grab three other parents and get ready for a wild ride through San Carlos history as you compete against 24 other teams in being the first to locate the treasure chest.
Benefiting San Carlos Schools
All proceeds will benefit San Carlos schools through the San Carlos Education Foundation.
The Basics
Teams.  Teams are made up of four adults.  Please note that one of the adults will be the designated driver.  The designated driver may not consume any alcohol ahead of or during the hunt.  Teams can be purchased for $500 per team through Spring Fling.   With four team members, your cost is $125, per person.  Two Platinum Teams will be up for live auction during spring fling.  Those who have purchased a regular $500 team can have that $500 applied toward the purchase of one of the live auction Platinum Teams.  * If you will not be attending Spring Fling on Saturday, please just let me know and I can help you reserve one of the 25 team spots ahead of time.

The Venue
On Saturday May 19th, at 5:00 pm, San Carlos Treasure Hunters will kick off from Hometown Days at Burton Park. The ten clue locations, and the final golden clue location will all be within the city limits.  There is absolutely no reason to leave San Carlos. The after-party will be at The Office Bar & Grill.
The Subject Matter
The subject matter for the clues is based on:
(1) The San Carlos Stories book
(2) The Diary of J.P Harlow
(3) All San Carlos Parks (you should visit each and know what is there)
(4) The San Carlos History Museum * You will need to visit this in preparation for Saturday, May 19th.  Know what is there….take a close look around.
What you MUST have for May 19th:
(1) A smart phone that is connected to our twitter feed.
(2) The San Carlos Stories book
Want to Experience San Carlos Treasure Hunters in Style?
Further enhance your San Carlos Treasure Hunters experience by upgrading your regular team to one of two VIP Teams, which will be auctioned off during the live auction portion of Spring Fling.  Please see SCEF's description of these two items below:
San Carlos Treasure Hunters VIP Teams
Description:
So you've been a designated Treasure Hunters driver for your kids and you were just itching to get in on the fun, or perhaps you have never gone on a SCTH but love to sleuth – well then this is the perfect event for you, the parents! After many years of Treasure Hunters for kids, Bob Bredel of Today Sotheby's International Realty and Dr. David Young of Young Orthodontics have once again teamed up and are pleased to announce the first San Carlos Treasure Hunters for Parents. Your team of FOUR (4) parents will search for clues all over San Carlos, and experience, shall we say, "different" challenges along the way in an attempt to find the Ultimate Treasure. The hunt begins on Sat, May 19, 2012 at 5:00 pm and finishes with a toast to the winning team and good cheer all around! These 2 very special VIP Team spots are being offered in the Live Auction – VIP Team Andy and VIP Team Bob! San Carlos Mayor Andy Klein will be your designated driver on Team Andy, with his insider's knowledge of the workings of our great town! San Carlos realtor and TH co-inventor Bob Bredel will be the designated driver of Team Bob, with his vast knowledge of the back roads and history of San Carlos. Which team will you be on? Drinks and VIP Gear are included as you search for the Ultimate Treasure and bragging rights! Silent Auction winners will be upgraded to VIP if they are a winning Live Auction bidder.
To be taken directly to the San Carlos Treasure Hunters site, click here.