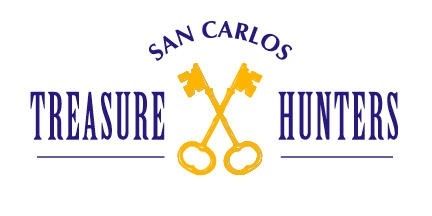 New Champions
One hour and thirty five minutes after the final countdown, Team 43, with Erin Walsh, Hannah Murray and James Cadagan found the treasure chest keys in the basement of the old St. Charles Church.  San Carlos Treasure Hunters, The Bell Tower Haunting, kicked off at exactly 4:00 pm on Saturday.
A Record Turnout
A combined effort of 335 people, comprised of 72 teams, parents and volunteers descended upon San Carlos at a frantic pace.  Teams had to successfully navigate ten hidden clue sites.  The hidden sites were based on San Carlos history, its park system, History Museum and The Bell Tower Haunting.  Three of the sites had physical challenges for either the team members or team supervising parents to complete.  Burton Park was home to the first physical challenge where team members had to count 62 scattered flags and give the correct number to the volunteer.  The second physical challenge was a parents only physical challenge that took place at Casa de Flores.  Parents wore an oversized foam cowboy hat and hopped on tricycles to complete a challenging course. The final physical challenge took place at Casa de Flores as well. Here, teams were linked together, blindfolded and sent into a pitch black Casa De Flores.  Their goal was to track down a monster inside.  Once they tracked down the monster, they were handed the final, Golden Clue, which hinted at the location of the treasure chest keys.  In the end, Team 43 had what it took.  They figured out the secret combination to unlock the doors to the Casa De Flores basement, 1-0-2-4 (10/24 the date of death for Andrew Kipling Bellows) and they collected the $1,000 cash prize and their names will be inscribed on the San Carlos Treasure Hunters Champions Trophy.
For a full list of clues, challenges and answers please click here.  The full video of the hunt will be released shortly…so please check back soon!