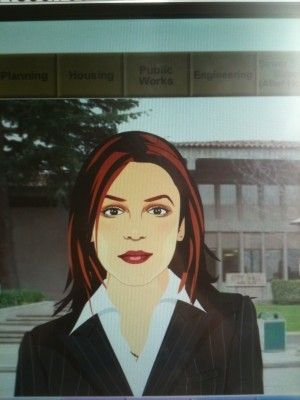 Carly is the first one you see when entering San Carlos City Hall.  She is knowledgeable, friendly and informative.  She also happens to be a computer.  The friendly clerk that was essentially outsourced for a computer no longer occupies that position.  Times have changed in San Carlos, and they are about to change even more.
Whether to outsource a variety of services, including police and fire services, will be up for negotiation before the council next week. From what I have gathered in the community, there are two prevailing opinions forming in San Carlos on this issue:
Opinion #1
Nobody wants to see the outsourcing of our city services, but it is time for San Carlos to get real and deal with its deficit.  Additional tax measures are not the answer.  San Carlos needs to live within its means and keep cutting selectively, until a balanced budget is in place.  If outsourcing is a reasonable alternative, and does not interfere with safety, bring it on.

Opinion #2
Outsourcing is not the answer for San Carlos. San Carlos has built its reputation on being a tight-knit community. Having our city services handled in-town is part of what makes San Carlos special.  The minute we outsource those services, the "community" aspect of San Carlos is suddenly diluted, if even by a little.  Nobody likes additional taxes, but we are willing to pay a little more to preserve all that makes San Carlos special.
Some other points to consider:
If the council does decide to outsource some city services, it would be a stretch to say that San Carlos would ever bring those services back under the umbrella of San Carlos.  Once they're gone…they're gone.
It would be naive to believe that outsourcing would not have some effect on safety and/or efficiency.  Granted, the level is probably not that far from being negligible, but there is something to be said for "in-town" police and fire departments.
Where does the outsourcing stop? Should other city services be considered for outsourcing?
Conclusion
At this point, nothing should be off the table.  The council should be exploring any and all options to help balance the budget.  My two cents would be to stay away from outsourcing.  I think San Carlos as a whole does take a hit on its "community" reputation and I do think there is some truth in the safety/efficiency arguments.  Nobody wants to see our city departments cut back even more, but it may be a better alternative than outsourcing our services. The end goal is to do what is in the best interest of San Carlos, not a particular department or service provider. However, tough cuts are going to change the landscape in San Carlos.
With all do respect to Carly, I have to believe that outsourcing is one step closer to a distant more robotic approach to city services in a city that prides itself on personal interaction and community.