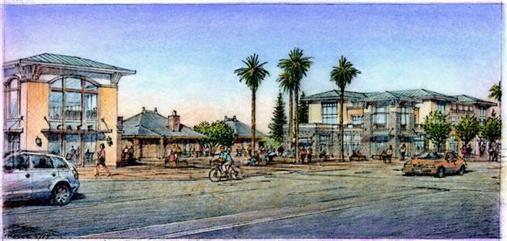 First Opportunity for Public Input
If the majority of the public comments at last night's San Carlos Planning Commission meeting were reflective of a majority of San Carlos residents, the plans for the San Carlos Transit Village may have to undergo some serious reconsideration.
The San Carlos Transit Village has been on the horizon in San Carlos for some time.  Briefly, the project is currently designed for the following:
*  The purpose of the project is to convert the current 10.53 acre railroad corridor along El Camino into a combination of housing units, retail and commercial units and additional parking.
*  Eight buildings will be complete with 280 Luxury units within 407,298 square feet of residential space
*  Also, included in those eight buildings will be 23,97 square feet of office space and 14,326 square feet of upscale retail space.
*  Finally, the plans include 667 parking spaces and a new Samtrans Transit Center
The worries of those that spoke last night can be summarized as follows:
*  Members of the Greater East San Carlos Association felt that the project was too large and that the process had perhaps been rushed along without proper consideration
*  The San Carlos Heritage Foundation felt that the historic train depot would be diminished in the wake of the larger buildings and that the EIR would adversely affect the landmark.
*  Others stated that the ensuing noise from high speed trains and obstructed views of neighbors have not been fully taken into account.
*  Finally, others claim that overflow parking and traffic will severely impact the Clearfield Park neighborhood.
Other considerations that should be taken into consideration that I did not hear directly addressed:
*  Part of the traffic mitigation will seemingly cause some additional congestion to downtown San Carlos.  Supplemental plans call for San Carlos Avenue to be condensed to one lane, going east and west, between El Camino and Walnut Street.  The intent seems to be to push traffic to Holly Street.  I'm not an expert in traffic patterns, but that seems like quite a stretch considering the two lanes going in both directions are already congested at almost all times of the day.
*  I would like to see a better explanation of the impact on our schools.  When I first met with some of the designers of the project, they claimed that their statistics showed that there would be very little impact on San Carlos schools.
*  Finally, I think there needs to be a more concise and transparent financial impact plan provided to residents, including construction, traffic modifications, schools, parks and safety.
The implementation of this project will most likely be the most significant change to San Carlos in the last 70 years.  It will most likely dictate the flow and feel of San Carlos for the next 70. Normally, I am not in favor of government moving slowly, but with regard to this particular project, San Carlos has to get this one right.  For more details on the plans, please click here.