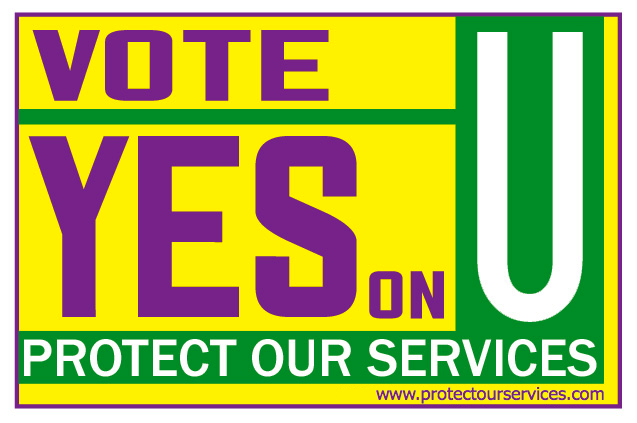 The controversial Measure U will be on the ballot for all San Carlans in November.  For those of you who are unfamiliar with Measure U, the measure provides for a 1/2 cent city-wide sales tax hike, which is expected to raise an additional $2,000,000.  These additional funds will supposedly stop San Carlos from having to make further cuts in city services.  The measure was put on the November ballot by a 4-1 vote in July, by the San Carlos City Council.  Council Member Matt Grocott was the lone dissenting vote. Listed below are the arguments for and against Measure U:
Argument in Favor of Measure U
Keep the "City of Good Living" a great place to live! Vote YES on Measure U!
Here's the situation. Since 2000, San Carlos has:
realized minimal revenue growth and a growing demand for services;
slashed its budget by reducing staff, benefits, and pension costs
deferred most capital and infrastructure projects
complied with, and paid for, all mandated state and federal programs
While we'll continue to be very diligent about expense control, we face deficits that budget cutting can't solve.
And to make a bad situation worse, the state will be dipping into our city coffers to the tune of $2.4 million this year alone.
It's important to note that when compared to other cities of similar size (Belmont, Menlo Park, Burlingame, Foster City), San Carlos:
has the lowest city staffing level
receives only 13% of your property taxes (the average of the four other cities is 20.2%)
has not enacted a revenue measure for 10 years
This initiative will add one half percent to the sales tax for 6 years. It will produce approximately $2.2 million in yearly revenue for San Carlos that cannot be shared by the state. And non-San Carlos residents will generate income for us as they shop and dine in town.
We all value our neighborhood parks, recreation programs, and police and fire departments. Without the revenue produced by Measure U, our emergency services, park quality, and recreation resources will be severely reduced. These facilities and services are critical contributors to our safety, quality of life, and property values.
Argument Against Measure U
Taxes have outpaced inflation, decade after decade. We must draw a line in the sand, now.
No tax increase is affordable when added to the other taxes we pay.
property taxes (plus special assessments)
sales taxes (county and state)
income taxes (state and federal)
vehicle license fees & taxes
telecommunications taxes
additional excise taxes on alcohol, tobacco, gasoline, tires, etc.
How much is enough?
In 1960, the sales tax was only 3%.
Today it is 9.25% in all cities in San Mateo County.
Increasing that to nearly 10% in San Carlos would be crazy!
Raising taxes never stopped politicians from claiming they need more money. But higher taxes always make it harder for regular people to make ends meet. And some can't.
Retailers struggle to survive on razor-thin profit margins. Higher taxes won't help anybody, including city governments, if local businesses are forced to close their doors, due to unprofitability.
Other Considerations for Argument Against Measure U

Critics of Measure U have also argued that the combination of the recession and sales tax hike would hurt downtown businesses.  Others have argued that San Carlos should first examine ways to further trim its budget rather than jumping straight to a sales tax hike.
Analysis
While everyone is looking to save money during the economic downturn, I'm not sure the Argument against Measure U regarding the impact on local businesses holds water.  If a consumer were to go downtown and buy $100 worth of items, the difference between the current sales tax and Measure U proposed increase of the sales tax is a whopping $0.50. With gas topping $3.00 a gallon, I am fairly certain you would spend at least that if you wanted to drive outside the city limits to do your shopping.
Since I am not completely familiar with the city's finances I do not feel that I can comment on whether trimming additional city services, rather than a sales tax increase, is a suitable resolution.  However, I will say that from a general perception vantage point, it seems the city has already trimmed significantly.  Staff has been cut, employee costs have been cut, city services such as those provided in the Kiwanis building have been cut.
Nobody likes additional taxes.  My personal feeling on the matter is that the impact to local businesses would be negligible and I do not want to see the city cut services further than it already has. As is the case with most tax increases, they are not pleasant, but sometimes they are the right thing to do.
For more information on the argument in favor of Measure U, please click here.